Dairy, Egg, and Nut Free Thanksgiving
Details

Leave a Comment

Related Items
Thanksgiving is one of the best holidays. It is family, food and time off of school or work. There is no stress about choosing the right gift for the right person. It is just time spent together. We look forward to sharing a traditional Thanksgiving dinner with family every year. Having allergies to dairy, eggs and nuts has not stopped us from enjoying Thanksgiving. It does require a little extra communication and planning but we have found ways to continue our family and cultural traditions and to include everyone during the holidays. Our annual Thanksgiving is very traditional and includes all of our favorites:
Turkey
Gravy
Stuffing/Dressing
Mashed Potatoes
Rolls
Green Bean Casserole
Sweet Potatoes
Pumpkin Pie
Apple Pie
Allergy Aware at Thanksgiving
Making Thanksgiving safe for us means no dairy, no eggs, and no nuts. This isn't too difficult when you are making the food yourself, but if you are eating at someone else's home, you will definitely need to communicate with your host and might need to bring some of your own food. We nearly always host Thanksgiving at our home so we can control what goes into the food. No matter how well meaning family is, it is hard to think differently about allergy safety when someone doesn't live or think that way on a day-to-day basis. When we eat at a family member's home, I communicate ahead of time and volunteer my help with food prep in the kitchen that day, checking ingredients, and making sure we are safe.
It is important to be aware of what foods may have dairy, egg or nuts so you can ask before you eat them, bring your own substitute or talk about what changes would need to be made if someone else is preparing the food. If I just showed up at Thanksgiving without any preparation, there wouldn't likely be much, if anything that my son could safely eat. If I didn't know any better, I might assume a butter-brushed turkey was dairy free when it wasn't, and no one wants to spend Thanksgiving in the ER. Here is what you need to know about what is in a typical Thanksgiving Dinner:
Turkey – many turkeys are brushed with melted butter before they are cooked
Gravy – most gravy recipes have butter, milk, or heavy cream in them
Mashed Potatoes – classic mashed potatoes are made with butter, milk, or heavy cream and sometimes cheese
Stuffing or Dressing – the bread used in stuffing may contain milk or eggs, and homemade recipes often call for eggs
Rolls – many recipes use eggs, butter, or milk
Green Bean Casserole – usually made with cream of mushroom soup, milk, and sometimes topped with cheese
Sweet Potatoes or Sweet Potato Casserole – most sweet potatoes have butter on them and casserole recipes call for eggs, butter, and pecans
Pumpkin pie – the crust can contain butter or egg, and the filling is usually made with egg and dairy products like evaporated milk
Apple pie – the crust is often made with butter, and sometimes there is egg in the crust on top as a wash. Some apple pies have a crumble topping that includes nuts like pecans, or can even include nuts in the apple filling.
Making Thanksgiving Safe and DEN Free
While dairy, eggs, and nuts are common ingredients used at Thanksgiving in many of the dishes, most are very easy to substitute without changing the quality of the food. Want a DEN Free Thanksgiving? Here are some suggestions of substitutions, products to buy, or helpful recipes.
Turkey: Dairy Free
Use olive oil, canola oil, or a butter substitute (like Smart Balance or Earth Balance spread) to brush on the turkey before cooking. If you've never cooked a turkey before, there are many great resources, like this one from All Recipes.
Gravy: Dairy Free
Use a gravy recipe that does not ask for milk like this turkey gravy recipe from Betty Crocker. If you have a recipe you love, you can substitute olive oil, canola oil or a butter substitute and chicken broth for milk in your favorite gravy recipe.
Mashed Potatoes: Dairy Free
Use a standard mashed potato recipe like this one from Pillsbury, but substitute the dairy with Smart Balance butter and unsweetened, plain soy milk. It is unlikely anyone will know the difference. If you prefer not to use a milk alternative, you can use chicken broth instead of milk. If you've never made mashed potatoes, here are is a video that goes with the recipe that tells you how to get great mashed potatoes.
Rolls: Dairy and Egg Free
We use the frozen Rhodes Dinner Rolls that you can find in the freezer section of most grocery stores. Everyone loves them and they are so easy. If you prefer to make your own, choose a classic yeast dinner roll recipe like this and use milk and butter substitutes. We have also picked up rolls at local bakeries and even Walmart (steak rolls) on occasion, but it does require a lot of label reading and asking questions as each facility has different processes.
Stuffing or Dressing: Dairy and Egg Free
My kids love Stove Top Stuffing. It is so easy to make, and it's delicious. The instructions say to use butter, but we use olive oil and it comes out great every time. Pepperidge Farm also has great stuffing mixes that are dairy, egg and nut free if you use olive oil instead of butter. If you make your own stuffing from scratch, be sure to pick safe bread, and you will need to add extra liquid to make up for additional eggs if you omit them.
Green Bean Casserole: Dairy Free
This is one of the few Thanksgiving items that eluded us for quite some time. We have a member of the family who can't tolerate onions, so we often made a side of cooked, seasoned green beans instead. Having a side of seasoned green beans, especially if they are cooked in bacon, is always a delicious option! If you want traditional green bean casserole, try this Vegan Green Bean Casserole recipe from Minimalist Baker. You can use French's Fried Onions, or Trader Joe's Fried Onions. Neither contain dairy, egg or nuts, and both are delicious.
Sweet Potatoes
Before food allergies, our family tradition at Thanksgiving was a sweet potato casserole full of butter, eggs, and pecans. That is a triple-no-go in our household now. But you can make a delicious sweet potato casserole using a recipe like this one from Yellow Bliss Road, just substitute the butter and milk with a non-dairy alternative like Smart Balance and soy milk. If you want to keep it simple, try these glazed sweet potatoes, but substitute with an alternative butter.
Pumpkin Pie: Dairy and Egg Free
For years we did not have a safe pumpkin pie. One year I tried a vegan recipe that no one liked, and after that we just stuck with apple and berry pies. Then one year we had success adapting the Libby's pumpkin pie recipe and it was a hit. Here is the recipe. You can make your own pie crust, or buy a prepared crust from Pillsbury or Trader Joe's.
Apple Pie
Most apple pie recipes can be made safe so long as the crust does not contain egg or milk products. If you need a pie crust that is DEN Free, you can try one like this pie crust recipe from Betty Crocker. When we are in a pinch, we buy Marie Calendar's apple pies. We usually have a Lattice Apple Pie or a Dutch Apple Pie and both are delicious and easy. Neither contain dairy, egg and nuts. If you are looking for other pie flavors, most of their fruit pies do not contain dairy, egg or nuts including Razzleberry, Cherry, Peach, and Strawberry Rhubarb.
Ice Cream and Whipped Cream for Pies
If you like to serve your fruit pies with ice cream, like we do, you can use So Delicious Vanilla Ice Cream which is made from either soy or coconut milk and can be found in many grocery stores, Walmart or Target, or you can use Trader Joe's Soy Creamy Vanilla Ice Cream. If you prefer to use a dairy free whipped cream, there are a few options. You can find Coconut Whipped Topping in a spray can in the refrigerated section at Trader Joe's, or frozen whipped toppings like TruWhip or CocoWhip in health food stores like Sprouts. We usually use TruWhip frozen whipped topping or we like to make our own dairy free whipped cream from coconut cream. Making your own coconut whipped cream is super easy, so long as you can remember to get the can of coconut in the fridge the night before. Try these instructions from Minimalist Baker.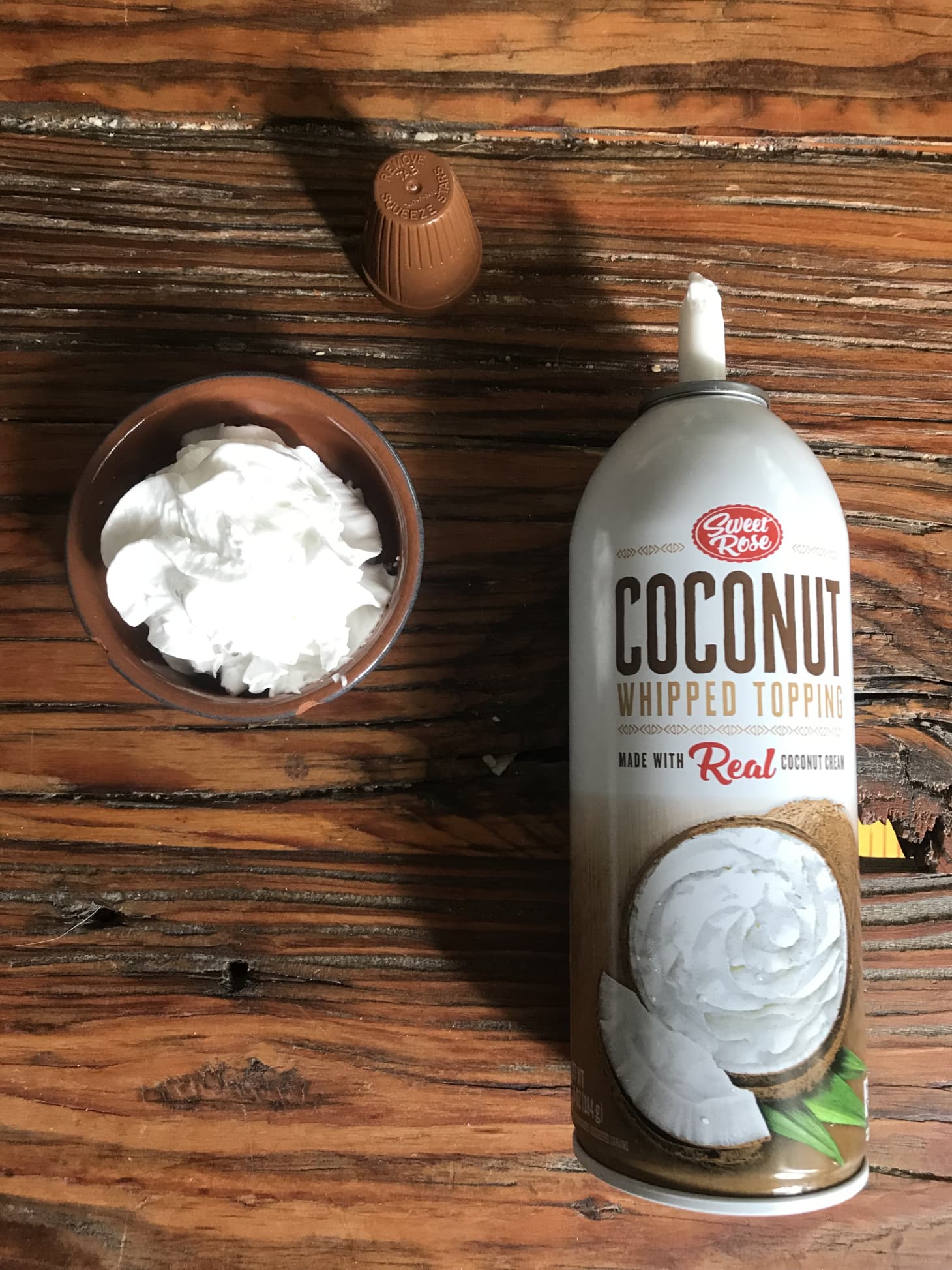 Have a Safe and Happy Thanksgiving!
Hopefully these tips will help you have the confidence to navigate Thanksgiving safely and have a positive and memorable holiday with people AND food that you love! If you have other products or tips that have made Thanksgiving successful for you, please share in the comments!